Certified Spiritual Sexual Educator Facilitator Training for Women
---
The demand for empowered feminine leaders is rising every day
If you know deep in your soul that you are meant to be one of them… you are in the right place.
♥
Represent the leading edge of personal growth
♥
Activate huge demand for your body of work and teachings
♥
Accelerate your capacity to magnetize abundance and wealth
♥
Refine your marketing, sales, speaking, and facilitation skills
♥
Enhance your business and entrepreneurial skills
♥
Rise to your full potential as a facilitator and healer
♥
Elevate your mission and purpose
♥
Know beyond all doubt you are contributing to planetary healing
The Sacred Feminine Mystery School® is building a global community of Certified Spiritual Sexual Educators® who bring impeccable integrity and safety to helping people release and heal the sexual wounding that holds them back from their capacity to live vital, passionate, joyful, and abundant lives.
As the collective sexual shadow comes roaring to the surface for integration, The Sacred Feminine is Rising and calling YOU to your highest soul alignment. There is no more time to waste. She is calling forth her Priestesses to take a stand for Awakening and Healing right now. Once you activate your personal sexual healing and awakening, you become a Chalice that overflows with radiance and wholeness and impacts the entire web of our existence – a Vessel of awakening and healing for everyone you come into contact with.
With the rapidly rising tide of the women's sexual empowerment movement, we know that well-trained, ethical teachers and practitioners of this work are going to be in fierce demand in the coming years.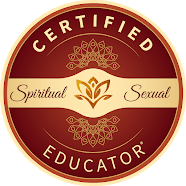 The world needs YOUR unique, authentic power!
The 6-month Certified Spiritual Sexual Educator® program is by application & interview process only and is limited to the first 15 women. This is a robust, accelerated, advanced, intensive deep-dive for women who are ready to become successful, financially rewarded teachers and practitioners of Sacred Sexual Awakening & Healing®. This is not a beginning or introductory program. Learn more and apply here. 
---
Get More From Our Community
---