Online Tantric Dating Site
Meet Your Tantra Partner
Online dating sites and dating apps are these days one of the most popular ways to meet new people. With more than 1,500 sites worldwide, catering for people from all walks of life and interests, it is now easier then ever, to meet someone who shares your commonalities, hobbies or interests. Even though the number of dating sites and apps is growing rapidly, there is still a lack of opportunities for conscious living people interested in Tantra to meet each other.
TantraLovers is proud to announce the launch of new online tantric dating feature, which finally makes it easier for people with serious interest in Tantra to get to know other tantricas looking to connect. Even though our platform was not intented to be a dating site, as it was created as a private community platform for tantricas desiring to belong to the safe community of people with interest in Tantra & Spirituality, the current trend seems to suggest that people walking the path of Tantra find it very difficult to meet someone who shares the same interests.
We received numerous suggestions from our website visitors, who were missing on opportunities to connect with people with similar interests, to add tantric dating & search functionality to our platform. Feedback we received from several Tantra Teachers registered at our website, suggests that it is mainly women who find it difficult to find quality men with interest in Tantra & Spirituality. For these reasons we decided to launch 'Tantric Match' functionality, which now makes it possible for everyone seriously interested in Tantra to search among other tantricas looking to connect. As the name suggests, we don't like to call our platform a tantric dating site, but newly released feature definitely meets dating functionalities and requirements for tantricas looking for a tantric partner.
How Does It Work?
TantraLovers | Online Tantric Community is a private social network designed for people with interest in Tantra and Spirituality who would like to discuss tantra related topics in a private space, among like-minded people.. Most of the functionalities at our community platform are offered for free and you won't have to spent a penny to get the best out of this community.
Free membership offers plenty of features, such as social networking functionalities (like, comment, share), free online tantra courses, access to Tantric Magazine, directory of tantra teachers & events and much more. You can check out all the features of our platform navigating to our home page.
If you would like to level up your membership and have access to private messaging, you can purchase our Basic plan for 9.45Eur/Year, which will allow you to send private messages to our registered members. Premium membership offers Audio/Video calling functioanlity in addition to private messaging and access to 'tantric dating' functionality and a directory of our premium members. These are people who signed up with an intetion of meeting other tantricas looking to connect. If you're seriously interested in Tantra and would like to search for other people with same interests who actually signed up for the service with an intention of meeting others, 'Tantric Match' functionality is the right choice for you.
50% OFF For First 1000 Premium Members
We're running a promo 50% off for the first 1000 members and you should simply not miss on this opportunity, because you can get yearly membership for as low as 9.75 EUR/Year. This will allow you to search other premium members based on their gender, age or location as well as message them privately and make Audio/Video calls. Currently, there are around 200 premium members registered at the platform and this number is steadily growing.
---

Get yearly premium membership for 9.75 EUR/YEAR with coupon 50OFF at the discount | EXPLORE
---
So if you're mad about dogs, passionate about green issues or a connoisseur of fine wines, you should probably find another site more known in the dating world. If, however you're in search of a tantric partner or you simply would like to connect with other people interested in Tantra, you've come to the right place. TantraLovers | More Then Just A Online Tantric Dating Site is a fully loaded social private community platform, designed for Tantricas looking to connect with plenty of free functionalities and some paid ones for a realy low intro price.
---
---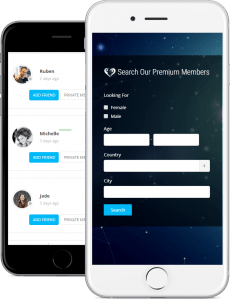 New App Makes It All Easier!
Recently we have released TantraLovers App, which empowers our users to use all the functionalities of our platform in mobile devices as well. You can now interract with our members on our social platform, share your ideas, watch online tantra courses, get inspired with our Tantric Magazine, blog for the magazine, search for teachers or tantra related events and much more, directly from your phone!
If you want to belong to the tantric online community and make new friends with similar interests, go ahead, install the app and reach out to hundreds of tantricas looking to connect.
---
Our aim is to provide a safe online community for our users to connect with other tantricas easily and possibly build new tantric relationships. This is the best time to join since you can get 50% off already discounted membership. At the moment there are around 200 premium members subscribed from all around the world. Once this number hits 1000 subscribers, the price will increase to 39.9 EUR/Year. If you would like to be a part of conscious online tantric community, for the price of two coffees, don't hesiatet and Join Us NOW for a bargain price of 9.75EUR. Simply enter coupon 50OFF in the coupon field at the checkout.
---
Join our list
Subscribe to our mailing list and get interesting stuff and updates to your email inbox.